Ian Dewhirst
Submitted by Six Million Steps on 10 November 2006 - 10:13am.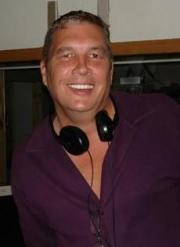 Ian Dewhirst started his DJ career in 1971 at the age of 16, with a warm-up slot at Leeds Central for Northern Soul DJ Legend Tony Banks. Following several successful weeks of "warming-up", Tony left the venue and Ian took over as resident at one of the North's most respected Northern Soul venues.
Following his success at Leeds Central, Ian started finding more and more Northern Soul U.S. imports and both his record collection and reputation started to grow. By 1972-1973 Ian secured several other residencies including weekly and bi-monthly all-nighters at Wigan Casino, Cleethorpes Pier and Sheffield Samantha's. This was during the 'golden age' of Northern Soul where Ian discovered and played such records as The Carstairs' "It Really Hurts Me Girl", The Tomangoe's "I Really Love You", Tobi Legend's "Time Will Pass You By", The Four Perfection's "I'm Not Strong Enough", Gerri Grainger's "I Go To Pieces", Lenny Curtis's "Nothing Can Help You Know", Clyde McPhatter's "Please Give Me One More Chance" and Yvonne Baker's "You Didn't Say A Word" among many others.
Following his growing disillusionment at the way that record prices were escalating and the amount he was personally being charged for "unknown" records, Ian decided to move to Los Angeles and search for Northern Soul rarities himself. So, in 1975 Ian moved to the U.S.A. and started hunting for rare up-tempo Northern Soul records. Within weeks he discovered many major rarities and new "unknown" records including Willie Hutch's "The Duck/Love Runs Out", Judy Street's "What" and literally hundred's of other records which have since become Northern Soul classics.
Whilst in Los Angeles, Ian became involved in co-producing a Motown medley disco record, which was eventually called "Uptown Festival" by the freshly formed group Shalamar. The record was signed to Don Cornelius's Soul Train Records where it topped the Billboard dance charts for 6 weeks, hit the U.S. Top 20 pop charts and eventually sold one million copies around the world by the end of 1976.
Ian returned from the U.S. after a highly successful 6 month stay and immediately returned to deejaying on the rapidly emerging Northern Jazz/Funk/Disco circuit with residencies at Leeds Central and all-dayers at Blackpool Mecca, Manchester Ritz, Nottingham Palais and Birmingham Locarno along with Colin Curtis, Ian Levine, Neil Rushton and Paul Schofield.
In 1979, following his success on the Northern Jazz/Funk/Disco circuit, Ian was invited to become resident DJ at the U.K.'s first U.S. style dance club - Leeds Warehouse. He was taught to mix by U.S. DJ Greg James and with his new skills Ian started mixing more eclectic styles of music which included Disco, Funk, Jazz-Funk, Electro and other styles from 1979-83. Whilst at the Warehouse Ian also introduced Soft Cell's Marc Almond to Gloria Jones' "Tainted Love" which later went on to become a 34 million-selling worldwide hit for Soft Cell and the longest running record ever on Billboard's U.S. Top 50 singles chart.
In late 1983 Ian moved to London and commenced work with EMI Records as Head of Club Promotion/A&R where he scored instant successes with Ashford & Simpson, Maze, Freddie Jackson, Lillo Thomas, Tavares and Diana Ross. During this period Ian also introduced the Pet Shop Boys to EMI where they shortly scored a worldwide No.1 hit with "West End Girls" and forged a successful, career thereafter. Ian also commenced a Saturday night DJ Residency at The Playground at The Lyceum Theatre in London with Rusty Egan and Steve Strange.
Ian then moved onto Serious Records, before moving to Island Records and overseeing Sly & Robbie's only U.K. hit with "Boops (Here To Go)" and the signing of the Wild Bunch, who later mutated into Massive Attack and Soul II Soul.
In 1990 Ian conceived and created the Mastercuts series which became the biggest-selling non-T.V. advertised compilation series in the U.K. with such genres as Classic Funk, Classic Jazz-Funk, Classic P-Funk, Classic Mellow, Classic Mix, Classic House, Classic Electro, Classic Salsoul, Classic Rare-Groove etc, etc. During the period from 1990-1995 Ian did a number of prestigious guest slots on various Radio shows including Kiss FM and GLR.
In 1998 Ian helped found Simply Vinyl where he re-released over 400 albums on 180 gram vinyl and over 80 12" Dance Classics with the S12 series.
In 2003 Ian became co-owner of Suss'd Records and embarked on a huge re-release campaign for the legendary New York dance label Salsoul Records with over 90 releases in the last three years of operation.
As a result of the renewed interest in 1970's and 80's dance music, Ian started to DJ again with residencies at The Salmon & Compass in Islington and The Medicine Bar in Shoreditch and assorted guest appearances at Turnmills in Farringdon, Pop, Herbal, Cargo and The New Marquee in Central London as well as occasionally heading up North to the Hi-Fi Club's 'Move On Up' New Years Eve do's. The reaction to Ian's sets has rekindled his enthusiasm for the wheels of steel and his gigs are now becoming sell-outs. His many differen gigs are now becoming popular with those who know, whether the music is Northern Soul, R'n'B, Funk, Rare Disco, Rare-Groove, House or just Eclectic (the type of gigs he likes best)!
In addition to this Ian hosts the ORIGINAL MASTERCUTS Show (occasionally with Six Million Steps partner Alan Champ) on Starpoint Radio every Sunday afternoon 2.00-4.00pm
Recent gigs have included a brilliant weekend of clubs and radio in Paris with What The Funk www.3emevoie.com, the Player Bar in Soho and the phenomenal Let It Play parties in Hackney Wick.