Dave Cooper
Submitted by David Cooper on 23 September 2006 - 8:48pm.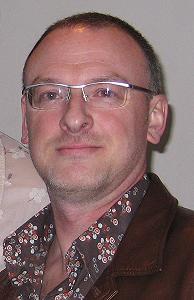 I first tasted the 'art' of DJ-ing/music around 73/74 at my mate Keith's house, who's older brother was a mobile DJ. I suppose I discovered black music proper while looking through his beer crates of 7-inchers and we found it highly amusing to play Barry White, Judge Dread, James Brown, Fatback Band, George McRae, KC and The Sunshine Band etc out of the bedroom window, through a fairly loud PA system, to those unfortunate enough to be walking by. I then progressed on to going to the usual school and youth club discos, and annoying the DJ's to play stuff like The Ohio Players and War, rather than the usual Slade, Sweet and Gary Glitter. Although pocket money enabled me to buy 7-inch singles, I had to get myself a Saturday job in order to finance a newly acquired addiction. My first pay packet lasted all of about five minutes (that's all it took to get from Allsaves to Ajax Records in Welling High Street to buy Donald Byrd's 'Places and Spaces' - what an album to start on !)
By 1975/6, aged 15/16, the DJ-ing bug bit. Another mate, Andy, had a brother who was a technical wizard with electronics and worked at the BBC, who not only built us our first DJ console but also had the pickings of the Beeb's record library. So we had the equipment and we were starting to amass vinyl too. Our first gig was at Andy's cousins flat in Lee Green, playing to a much older and sophisticated crowd, who were frequenting clubs such as the Lacy Lady and the Goldmine. They were into funk/soul and disco, but it was also at the time when Swing was pretty much in vogue too (I recall that Chris Hill was very influential in the resurgence of Glenn Miller et al). We were pretty much steered in terms of what to play that night by Andy's brother, but what a baptism. The grounding was followed by the usual gigs at mates' birthday parties, then playing at the Queens Silver Jubilee celebrations street party on a rainy day in Welling.
All throughout this period my musical 'shaping' came mainly from two radio DJ's; Robbie Vincent on Radio London and Greg Edwards on Capital Radio, and a fella called Jeff Young who was DJ-ing regularly on a Friday night at Bexley United Football Club. Once starting out into the world of work clubbing just had to be done with regular visits to the Global Village, The Goldmine, Crackers, 100 Club, Royalty, Best Disco in Town @ the Lyceum, Flicks in Dartford (and the list goes on). The tunes of the night had to purchased from the West End's vinyl emporiums such as Groove Records in Greek Street, Contempo records in Hanway Street, and the Lighting Shop in Petticoat Lane (plus more which I can't recall now !)
In 1982 getting married and having the burden of a mortgage I somehow still managed to continue to buy records and DJ occasionally, but it wasn't until the 90's came around that the DJ-ing bug bit once more with a vengeance. House music was becoming more soulful as technology improved, and was sounding less clinky/clanky as more live instrumentation was being used. DJ-ing with JJ at a variety of underground parties led to meeting with promoters and forming friendships with others with similar interests. This led to playing at the Ministry of Sound, and having residencies at Katabatic in Shoreditch, and the Saint in Soho, together with regular Back to the 70's nights with the legendary Chris Hill and the 'original' mastermixer Froggy. In 2001 I was fortunate to play at Bora Bora Beach Bar, El Devino and China Whites in Ibiza.
You can find me alongside my other 6MS cohorts JJ and Andrew presenting the 6MS SESSIONS, every Saturday from 11am to 1pm (GMT) on www.stompradio.com plus returning bi-monthly to Shoreditch for our own 6MS gig at East Village.
Choosing your absolute favourite records is difficult, but today it's:
(in no particular order)
FBI - 'Talking 'Bout Love'
O'Jays - 'For The Love of Money'
Double Exposure - 'Ten Percent'
Stevie Wonder - 'Higher Ground'
Grover Washington - 'Mr Magic'
Marvin Gaye - 'What's Going On'
Brass Construction - 'Movin'/Changin'
Fatback Band - 'Wicky Wacky'
O'Jays - 'I Love Music'
War - 'Low Rider'
Kings Of Tomorrow - Finally
Jon Cutler - It's Yours
Masters At Work - To Be In Love/Backfired